High quality alfalfa hay for sale - Postmasburg
Wednesday, 25 September 2019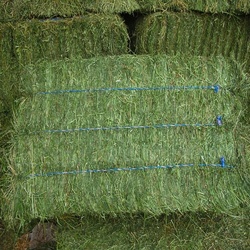 Item details
City:
Postmasburg, Northern Cape
Contacts

Judith

0836765939
Item description
We product and export of Alfalfa Hay, Oaten Hay, Rhodes Hay, Wheat Hay, Timothy Hay from our warehouse and we sale at discount prices.



OUR ALFALFA HAS THE HIGHEST FEEDING VALUE FOR YOUR ANIMALS. THESE HAYS ARE HIGHER IN PROTEIN AND MINERALS THAN GRASSES AND STRAWS. IT IS A PERFECT FEEDING CROP FOR A VARIETY OF ANIMALS INCLUDING HORSES, DAIRY COWS, BEEF CATTLE, SHEEP, ETC. WE TAKE PRIDE IN OUR HARVESTING AND STORAGE TECHNIQUES TO ASSURE A HIGH QUALITY PRODUCT WITH ONLY THE BEST NUTRITIONAL VALUE.





CommodityAlfafa Hay, Timothy Hay
GradeSupreme, Premium, Standard
Color100% Green
Bale weight30kg 5%
Size40x40x80 cm
Protein15-18%/20-25%
Fibers16%
Moisture10-13%
Color95% green
Dryingsun-dry/ machine-dry


Use for Animal FeedCattle, Chicken, Fish, Horse, Pig
Cont weight13-14tons
Bale/ton33-35
Bale/cont445-455
PackagingDouble Compressed Half-Cut Bale (30Kg), Double Compressed Full Bale (60Kg), Log Bale (100Kg), MACX Bale Sleeve (450Kg), Single Press.





We can supply year-round top quality alfalfa bales as per customer
requirements of nutrition value or size of bales. We are ready to supply you at any time as we have a large amount of stcok available. We look forward to establishing good business relatiosnhip with serious customers.



Please contact us with your email address and we will reply to your need immediately.